Campaign Details
Campaign Period
The campaign will commence from 17 September 2021 at 20:00 SGT and end on 30 September 2021 at 23:59 SGT (「Campaign Period」).
Campaign Summary
Get extra rewards on top of our existing Free Apple (AAPL) shares campaign just by completing the following tasks!
Limited Time Extra Rewards!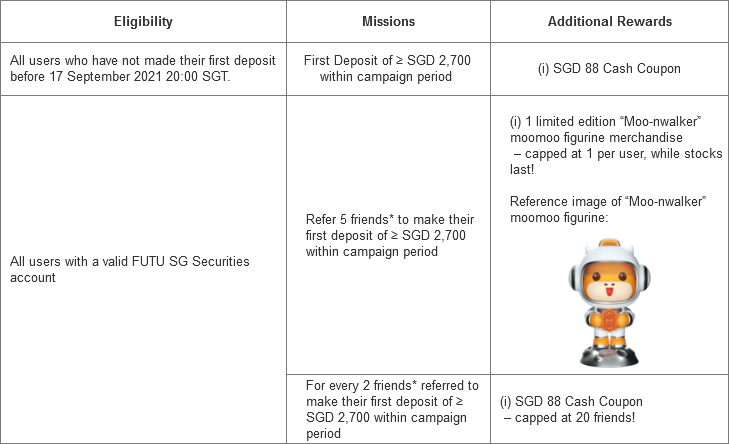 *Friends referred should not have made their first deposit in FUTU SG Securities Account by 17 September 2021 20:00 SGT

Frequently Asked Questions
Can I deposit in other currencies instead?
You can successfully deposit SGD 2,700 or USD 2,000 or HKD 16,000 into their securities account.
How will the rewards be credited to me?
Users will need to download the moomoo mobile app on either Apple App Store or Google Play Store and log in to receive the rewards after completing the respective missions.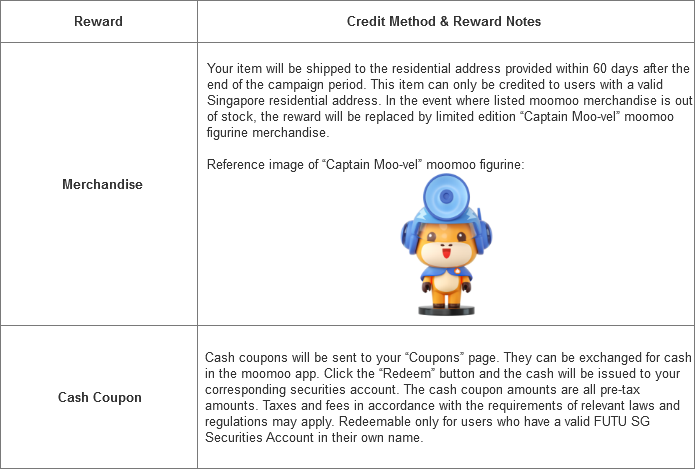 *Though trades are commission-free during the promotional periods, do take note that other fees may apply. Platform fees are charged on a per order basis to enable Futu to continue improving the user experience such as improving our technologies, providing free market data, and creating better analytical tools to improve our platform so that we can better serve our users. Goods and Services Tax and Regulatory Fees may be charged.

Disclaimer
1.These terms and conditions, rewards and offers shall apply to the 「moomoo Welcome Treasure Box」 organised by Futu Singapore Pte. Ltd. (FUTU SG) (「Organiser」), a subsidiary of Futu Holdings Limited. By taking part in this Campaign, you agree to be bound by these Campaign Terms and Conditions, existing terms and conditions in the customer agreement, and the decisions of Futu SG in relation to and in connection with this Campaign.
2.Futu SG reserves all rights to terminate the campaign or change terms and conditions, offers, rewards without prior notice. Other restrictions may apply and will be posted on the moomoo app/website prior to effectiveness.
3.This offer is only valid for eligible users who are either Singaporeans or Permanent Residents of Singapore or Singapore Residents# with Singapore residential addresses, are at least 18 years of age, and have a valid Singapore bank account in their own name.
4.The offer is also valid for non-Singapore Residents, however we are currently limiting sign-ups to a limited group of nationalities. Please click on the drop-down box during your account opening process to see if your nationality is available on the list. Additionally, please also refer to Credit Methods and Reward Notes for eligibility.
5.Applicable phone, internet and other charges may apply, and the participants shall be responsible for such costs and expenses.
6.No person should have more than one account. Please note that FUTU SG does not allow a person to open a trading account on behalf of another (i.e. we do not allow non-beneficial owners to open an account). This requirement is also stated during your account opening process and in your declaration. Please refrain from opening a trading account if you are not the ultimate beneficial owner of the account. If your securities account shows signs of fraud, abuse, or suspicious activity, e.g., using multiple accounts or devices, FUTU SG may, in its sole discretion, forfeit your stock rewards and limit your chance to participate in future promotions.
7.Each user or device, regardless mobile or computer, is only entitled to one set of registration / sign up rewards, account opening rewards, initial deposit rewards, market trade rewards and referral rewards.
8.FUTU SG reserves the right to remove market data access and commission-free trade entitlement should customer not fulfill all stated conditions of the offer. Should the customer not fulfil all the stated conditions of this offer, FUTU SG reserves the right to charge in full the free shares.
9.Requests for substitution of rewards will not be entertained. FUTU SG reserves all rights to end the offer or amend the rules of the offer at any time without prior notice.
10.Investment products available through the moomoo App are offered by, including, but not limited to FUTU SG, a broker licensed by the Monetary Authority of Singapore. The Moomoo App is a trading platform offered by Moomoo Inc., a subsidiary of Futu Holdings Limited. Neither receipt of a share of stock through this program nor identification of a particular security in communications related to this program constitutes a solicitation of the security or a recommendation to buy, sell, or hold the security. FUTU SG does not provide investment advice and does not hereby recommend any security or transaction.
11.For more information on fee schedule, please visit: https://support.futusg.com/en-us/topic76.
12.If you would like to access our commission calculator, please visit: https://charge.futusg.com/calc
13.For more information on our referral programme 「Calling moomoo Ambassadors」, please visit: https://support.futusg.com/topic204.
14.This advertisement has not been reviewed by the Monetary Authority of Singapore.
#Definition of "Singapore residents": Users who are non-Singaporeans and non-permanent residents of Singapore, but residing in Singapore, have a valid Singapore address and are able to provide proof of Singapore addresses through bills or bank statements that are within 03 months from account opening.