1. What is an ETF?
An exchange traded fund (ETF) is an open-end investment fund listed and traded on stock exchanges. Its aim is to track the performance of an underlying index, such as the Straits Times Index, or an asset class like commodities.
2. ETF Subscription Process

2.1 Subscription Conditions
If you have opened a Futu SG Account and your account has enough balance, you can participate in the subscription.
2.2 Subscription Process

2.2.1 Subscription
Steps 1-3: App - Trade - IPO Subscription - SG
Step 4: Choose the IPOs you to subscribe and tap 「Subscribe」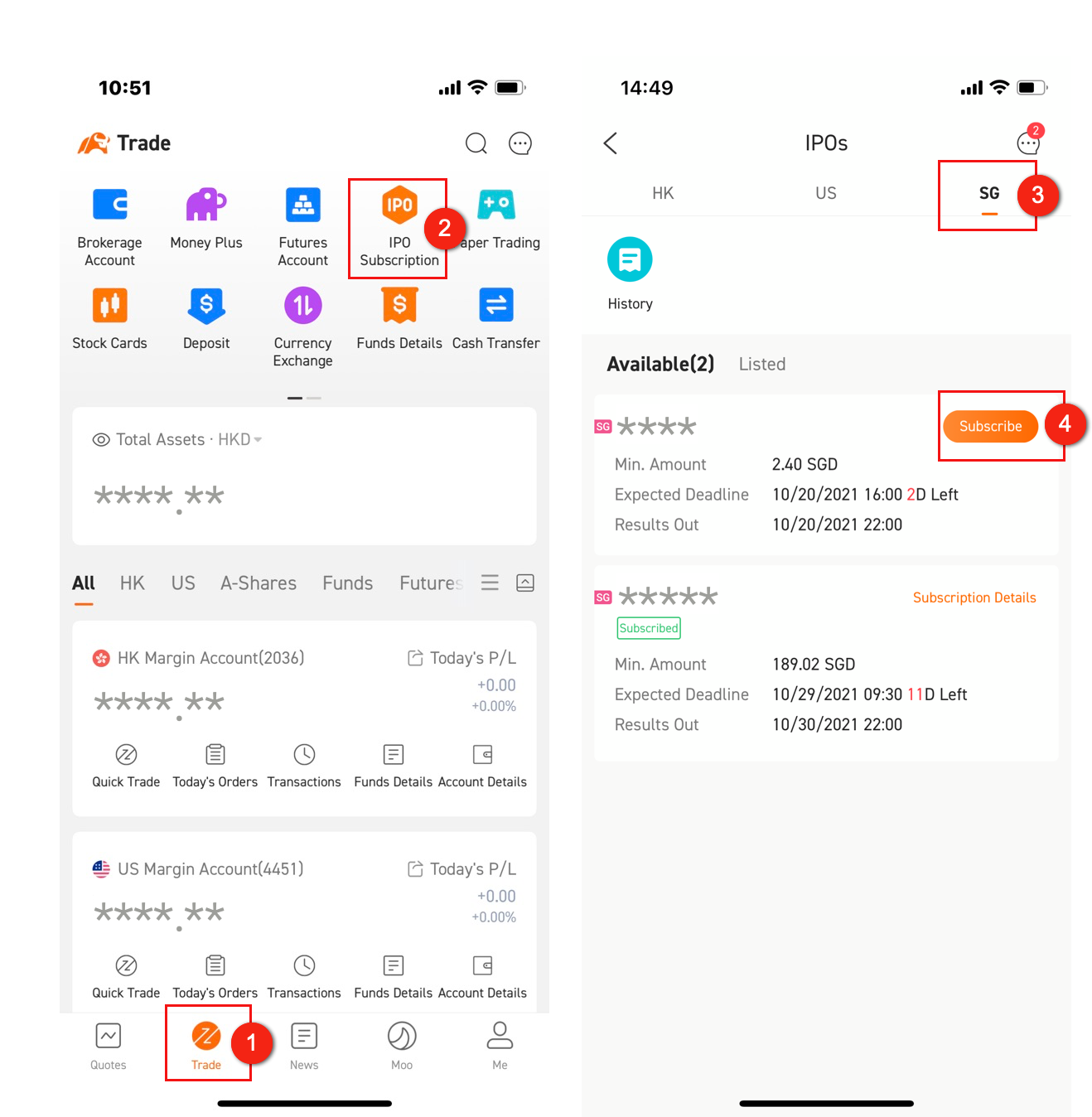 2.2.2 Check and Submit Subscription

Step 5: Read the relevant information and tap 「Request」
Step 6: Check the number of your subscribed shares, which must be an integer multiple of 1 lot
Step 7: Read and confirm the Conditional Offer to Buy Agreement and Risk Disclosure Statement. Then submit your subscription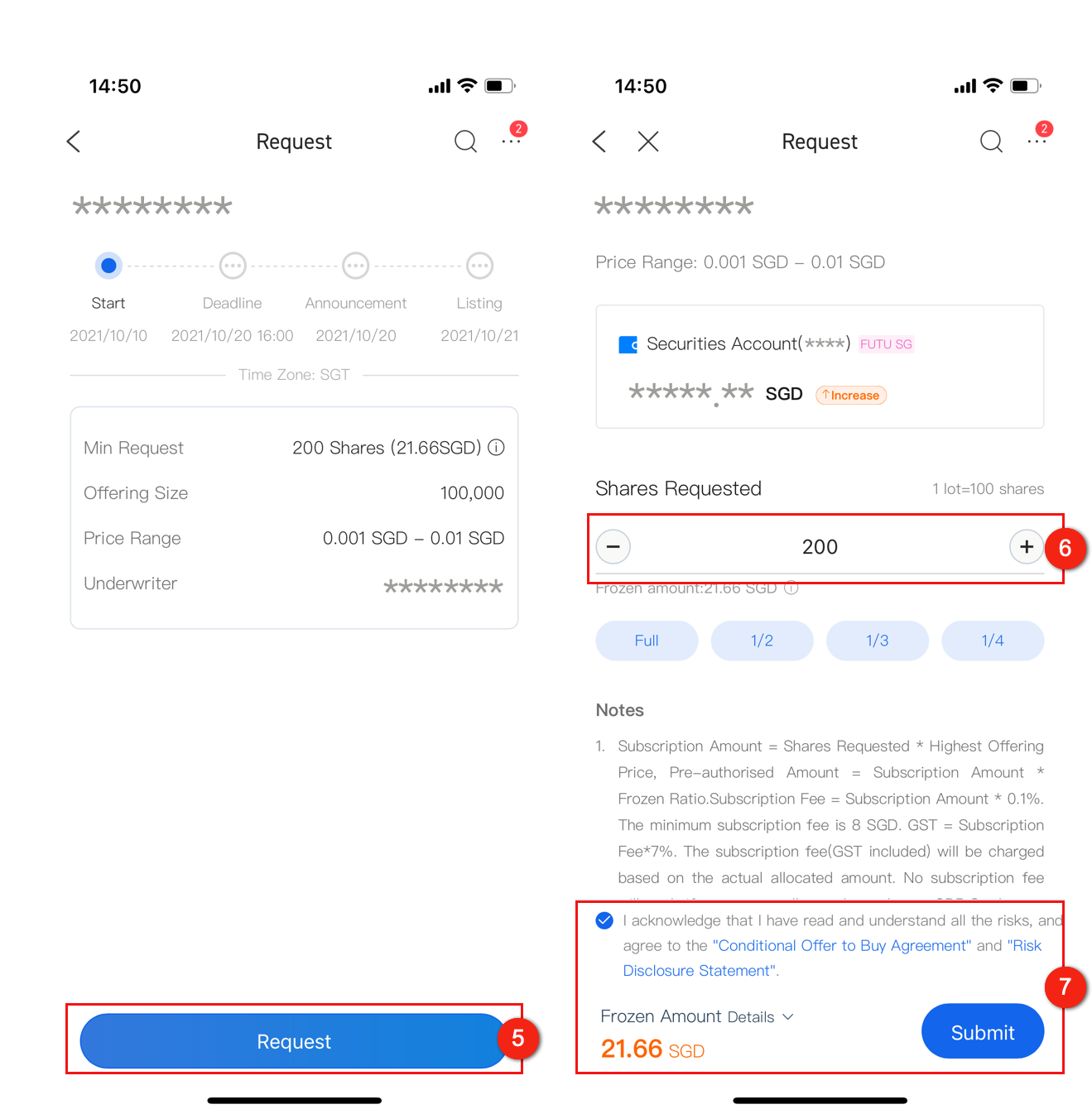 3. ETF Subscription Fees

| | | |
| --- | --- | --- |
| Type | Fees | Charge by |
| Subscription Fees | please refer to the IPO subscription page for more details | FUTU SG |
| CDP Settlement Fees | SGD10.7 per order | SGX |
Note: For Singapore tax resident, Singapore government will levy a Goods and Services Tax (GST) at a rate of 7% on the above Subscription Fees.
If Futu margin is used in the subscription process, the margin interest rate is as follows:

| | |
| --- | --- |
| Type | Fee |
| SGD | Annualized Rate of Interest 4.8% |
| USD | Annualized Rate of Interest 4.8% |
| HKD | Annualized Rate of Interest 6.8% |
| CNH | Annualized Rate of Interest 6.8% |
4. FAQs of ETF Subscription
4.1 How can I modify or cancel my ETF subscription?
The application may be cancelled before the deadline for subscription. If you need to amend your subscription information, you need to cancel the existing subscription and submit again.
4.2 When will I be notified of the allotment result?
The allotment results are usually published one day before listing day. Futu SG will re-allot shares to users once we acquire stock positions.
You can check your subscription via your Futu SG account or system notification.
4.3 When can I subscribe to an ETF?
The start time of an ETF subscription depends on the trading hours of relevant exchanges, the time when upstream facility makes the final confirmation, and the time when the allotment is completed by Futu SG. Please note that your subscription is taken out via Futu SG and there may be a time delay involved in real transaction.
4.4 When will my funds be unfrozen if the allotted amount is less than the subscription amount?
The funds for successful subscriptions and relevant fees will be debited from your Futu SG account on the allotment date. Excess funds will be automatically unfrozen. Please pay attention to your account balance.